Moncton — The New Brunswick Coalition for Pay Equity welcomes the provincial government's investment in care sector wages in the 2023-24 budget for a fifth consecutive year, but raises questions about the unequal increases granted to different services.
The government will allocate $44.9 million in wage increases for personal support workers, which includes $2.50 for those employed in home support services and in special care homes. It will also provide a $9.7 million increase, amounting to $2 an hour for workers in group homes and $1 an hour for community residences, family support services, attendant care, and those in the Employment and Support Service Programs (ESSP). The increases are retroactive to April 1.
According to the Coalition, these represent the larges sums allocated to wage increases for this predominantly female workforce in the last decade, but wages are still far from reaching pay equity. However, it stresses that these salaries do not yet reach pay equity and questions the government's decision not to provide the same increase to all services.
"This promising investment is an important step towards pay equity. It shows that the government recognizes that wages are key to recruiting and retaining care workers as well as providing quality care to the province's most vulnerable people," says Johanne Perron, the Coalition's Executive Director. "However, some services are not progressing as close to pay equity as others."
Job evaluations conducted by the Coalition for Pay Equity found that in 2023, equitable wages range from $24.99 to $28.86 per hour, varying by service. "These evaluations are based on the skills, responsibilities, working conditions and efforts required for each job," reminds Johanne Perron.
The equitable wages in the table below are determined by comparing the value of caregiving jobs to that of male jobs (maintenance worker and foreman).
Image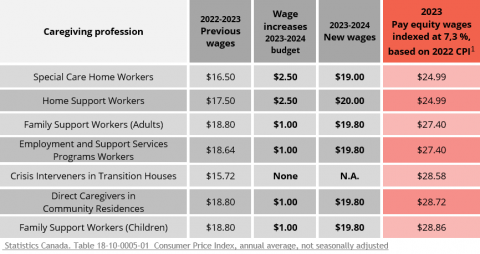 While the news has been welcomed by the sector, employees, such as Laurie Anderson, a human service counsellor in a community residence, are left wanting: "We are pleased that government recognizes how underpaid our precarious group of workers are in these fields and the importance of the work we do. However, the investment in wage increases should have been uniform across all care services. Government should follow the value of jobs for any future wage increases."
Fair wages for care workers are equally important to employers in the sector, who have been struggling in recent years to recruit and retain enough staff to attend to the people in their care.
"As the owner of a small special care home, I applaud efforts to bring the wages of our valued PSWs closer to pay equity and to better recognize the scope and difficulty of their work. However, there is still a long way to go to bring wages in line with those of services of comparable value, let alone to ensure that they are equitable," said Cristie Dykeman, an owner and operator of a special care home in the Fredericton area.
"It is paramount that they aim for pay equity to at long last recognize and value this essential work, and to ensure the long-awaited stability of a sector in crisis," added Johanne Perron.