The Coalition
"Never doubt that a small group of thoughtful, committed citizens can change the world. Indeed, it is the only thing that ever has."

– Margaret Mead
The New Brunswick Coalition for Pay Equity is a group of individuals and organizations that pursues and ensures the realization of the right to pay equity and to just conditions of work for women. To that end, the Coalition engages in communication, education, research, advocacy for the adoption and the implementation of adequate legislation, as well as public policy dialogue and development.
Our priorities for 2020? 
Goal 1. Achieving pay equity in the public and private sectors
Private Sector:

We advocate for pay equity legislation for the private sector by working with, and urging all political parties, to adopt a law NOW.

Public Sector:

We monitor the implementation of the

Pay Equity Act, 2009

and advocate for the extension of the law as well as the adoption of maintenance regulation.

Childcare and Community Caregiving Sector:

We promote and advocate for pay equity, better working conditions, and public investments to reach pay equity wages in the sector.
Image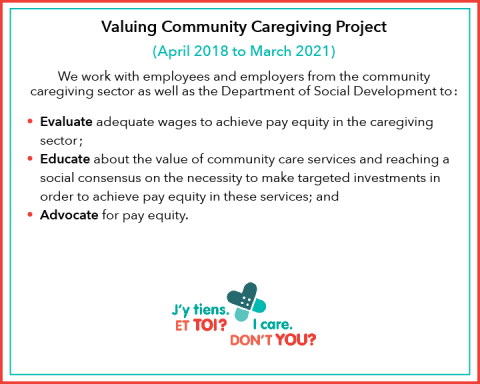 At the federal level:

We take part in national efforts for the federal law on pay equity to be implemented as soon as possible.
Goal 2. Raise awareness among New Brunswickers and increase their engagement
We continue to raise the awareness of the population about the importance of pay equity. 

We foster the participation of the public and of organizations in promotion and advocating for pay equity.
Follow us on social media through the handle @equiteNBequity!
Check out the list of our latest achievements and future projects for more information.
Together, we can achieve equal and fair pay for all!
As of July 2019, the Coalition has over 800 individual members as well as the following 88 member organizations including labour unions as well as community, municipal and faith-based organizations:
Annabel Gay Women's Institute

Ateliers Hirondelles

Bathurst & District Labour Council

Canadian Union of Public Employees, Maritimes Regional Office

Canadian Union of Public Employees (Locals 2116, 2745-3, 813, 1159, and 4598)

Centre de développement de l'enfant

Community Inclusion Network - Acadian Peninsula

Dames d'Acadie de Dieppe

Éclosion Inc.

Femmes acadiennes et francophones de Bertrand, Caraquet, Cocagne, Lamèque, and Shippagan

Filles de Marie-de-l'Assomption

Institut féminin de Grande-Digue

Institut féminin de Rivière-du-Portage

Maison de passage

Miramichi & District Labour Council

Moncton & District Labour Council

NB South Central Transition House & Second Stage Coalition, Inc.

NB Voices of Women for Peace

New Brunswick Midwives Association

Réseau des services pour victimes de violence du Nouveau-Brunswick

Restigouche & District Labour Council

Saint John & District Labour Council

Services à la famille Népisiguit
A glimpse of organizations working on pay equity here and abroad
We are not alone! Many organizations—not-for-profit and governmental—are working on pay equity. Here are links to some of them.
New Brunswick
New Brunswick Pay Equity Bureau
Executive Council Office for Women's Equality
Quebec
Commission de l'équité salariale du Québec (French only)
Commission de l'équité salariale du Québec (English publications)
Ontario
Equal Pay Coalition of Ontario
Canada
Canadian Human Rights Commission
Women and Gender Equality Canada (WAGE)
United States
National Committee on Pay Equity
New Zealand
Coalition for Equal Value Equal Pay