Our Proposed Solutions
Everyone deserves to be paid fairly for the value of their work, whether their job is done mainly by women, or mainly by men. 
Pay equity is equal pay for work of equal value. To achieve pay equity, the value of female-dominated jobs must be compared to the value of male-dominated jobs. Equal value? Equal pay! 
It is a human right. New Brunswick has legislation to ensure pay equity in the public sector, but none for the private sector. That needs to change. Everyone should enjoy the same rights!

How can we achieve pay equity?
Comparing jobs is like comparing apples and oranges, right?
Exactly!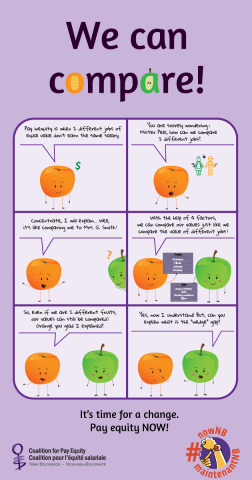 To determine the value of a job, we compare female-dominated jobs with male-dominated jobs using 4 factors:
Image

For example, we can compare the following jobs which are mostly done by women and by men. In order to be considered a female-dominated job, 60% of the workforce must be women.
In a hotel, the job of a chambermaid can have the same value as the job of a porter.
In a municipality, the job of administrative assistant can have the same value as the job of a mechanic.
In a grocery store, the job of a cashier can have the same value as the job of a warehouseman.

A pay equity exercise is comprised of the following steps:
Image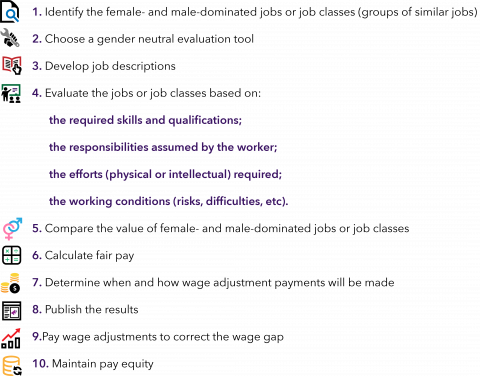 How far are we in terms of pay equity legislation?
Pay equity legislation is needed both at the provincial and the federal levels to ensure the right to pay equity. 
Provincial level: New Brunswick's Pay Equity Act, 2009 applies only to public sector employees. We need to extend the Act to the private sector, where 65 to 70 % of women in the labour force are employed.
Federal level: The Federal government adopted the Pay Equity Act in 2018 for the employers it regulates but the federal Act has not come into force yet.
 
What makes up a good pay equity law?
The law is proactive. Employers must demonstrate that they conform to the requirements of the law.
The law is implemented by an independent pay equity commission. This Commission has sufficient financial and human resources and reports to the Legislative Assembly.
The law is inclusive. It covers:
permanent, casual and seasonal full and part-time employees;
contractual employees, independent business owners and their employees;
staff of all employers who receive public funding from the provincial government.
The law provides for maintenance. The law sets out how pay equity can be maintained when new jobs of jobs classes are created or when there are changes to existing jobs or working conditions.
We're just getting started—check out the other principles of a good law!