Join us for the official launch of our new project, Valuing Work in Community and Social Care in New Brunswick! The project will explore different care models across Canada, and internationally, to improve working conditions for care workers here in New Brunswick.
The Coalition is thrilled to welcome Scottish Fair Work Convention's Professor Patricia Findlay who will deliver the keynote speech, and project applicant, Dr. Rachelle Pascoe-Deslauriers of Mount Allison University, who will serve as moderator.
The webinar will begin with a panel discussion addressing various experiences undertaken to value the caregiving sector in New Brunswick:
The event will take place online, on Wednesday, January 26, 11 to 1 pm. It will be bilingual and include simultaneous interpretation.
Panelists
Image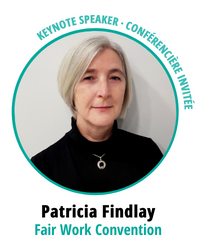 Professor Patricia Findlay is Co-Chair of Scotland's Fair Work Convention. She is Distinguished Professor of Work and Employment Relations and Director of the Scottish Centre for Employment Research at the University of Strathclyde Business School. An expert in the study of work and the management of the employment relationship, her research focusses on improving job quality (including through workplace practice re-configuration and technological change); workplace skills and learning; improving equality; and workplace governance and decision making. She currently leads a major ESRC research investment on work engagement and innovation and co-leads the ESRC funded PrOPEL Hub (www.propelhub.org). Her research is for and with funding councils, government, trade unions, employers and third sector organisations. Professor Findlay is also a member of the following Scottish Government Advisory groups: Gender Pay Action Plan Steering Group; Human Trafficking and Exploitation Strategic Oversight Group; Commission on Business Purpose; Transforming Employment Support Leadership Group; and Covid19 Learning and Evaluation Group. She currently sits as a member of the Scottish Council for Development of Industry's Productivity Club Steering Group and as a member of the Scottish Apprenticeship Advisory Board's Gender Commission. Patricia is a Fellow of the RSA and a member of the Employment Tribunals Service.
 
Image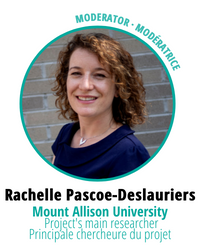 Dr. Rachelle Pascoe-Deslauriers joined the Commerce Department in 2017 from the Scottish Centre for Employment Research (SCER) at the University of Strathclyde, Glasgow, UK (Strathclyde Business School). Prior to coming to MtA, Rachelle worked on a series of research and industry engagement projects in the areas of workplace innovation and Fair, Innovative and Transformative Work (funders include the Scottish Government, Scottish Enterprise, Skills Development Scotland and the Scottish Funding Council) with SCER. In this work, Rachelle has worked closely with more than 40 businesses across Scotland to explore their workplace practices and organizational design, and the implications for good jobs and workplace innovation. She has previously worked in as a Social Researcher in Welfare Analysis for the Scottish Government.
Rachelle holds a PhD for research in Human Resource Management from the University of Strathclyde, Glasgow, UK (Thesis title: Job displacement and the implications for job quality: An investigation of the job transition process for displaced public sector workers in Scotland, UK and Ontario, Canada during the Great Recession), which was awarded the 2016 EFMD/Emerald Outstanding Doctoral Research Award in the category of Human Resource Management. Rachelle has as MLitt in Management from the University of St Andrews, St Andrews, UK (Thesis title: Perceived access to retraining, re-employment and self-employment opportunities for displaced manufacturing workers). She holds a BA (Hons) in Equity Studies and Finnish Studies from the University of Toronto.
 
Image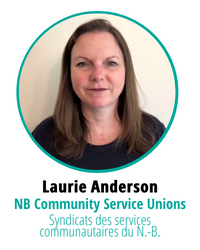 Laurie Anderson obtained her Human Service Counsellor certificate in 1998 and have been employed in a not for profit adult community residence ever since. She has been an active unionist and been a part of her local union executive in some capacity for the past ten years. She is currently the acting president of her Local as well as president of the New Brunswick Community Service Unions. Laurie sat on the Coalition's job evaluation committee in 2020 and is a co-founder of Cinderella's Closet River Valley. She lives in Woodstock with her husband, and she is the mother of three children.
Image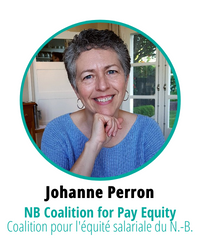 Johanne Perron has been the Executive Director of the New Brunswick Coalition for Pay Equity since 2001. She is interested in social justice, in particular women's equality. She has a B.A. in International Development Studies from Dalhousie University and a Masters degree in Environmental Studies from the Université de Moncton. In her paid and volunteer work, she has been involved with various organizations such as the Regroupement féministe du Nouveau-Brunswick, Canada World Youth, Oxfam, the Common Front for Social Justice and the Atlantic Council for International Cooperation. She sits on the New Brunswick Women's Council on behalf of the New Brunswick Coalition for Pay Equity. In 2018, she received the Leadership Legacy Award at YWCA Moncton's Women of Distinction Awards, and in 2010, was names Community Champion at the the inaugural Minister's Award for Excellence in Championing Gender Equality – VIVE Awards.
 
Image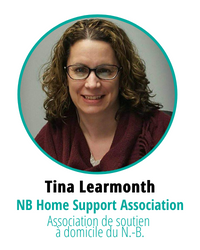 Tina Learmonth is the Area Director of Bayshore Home Care Solutions in New Brunswick. She has been dedicated to the home care sector for over 20 years and brings with her a tremendous amount of community involvement, sitting on various committees and associations as both standing members and executive. Tina is a passionate advocate for quality care and appropriate training for the staff who deliver it. Tina is the president of the New Brunswick Home Support Association, a board member for Options Employment Outreach Saint John. Tina also serves our community as a member of the Cadet Instructor Cadre. (a branch within the Reserve Force of the Canadian Armed Forces) The Canadian Cadet Organizations help develop skills that will help youth transition into adults who contribute positively to Canadian society as leaders, from good citizenship, leadership, and a focus on physical fitness.