Support the Coalition
Together we can tear down one of the greatest obstacles to women's economic and social equality: pay inequity.
Our yearly fundraising campaign is the backbone of our financial stability but donations are welcome any time! Thanks to donations from individuals, unions and organizations, the Coalition not only survives, but it THRIVES. 
Donations enable us to raise awareness through presentations and events across the province, develop useful educational material, meet MLAs and representatives from all political parties, bring media attention to pay equity issues and have a strong presence on social media.
Be the voice many New Brunswick women desperately need. Give now.

Our 10th fundraising campaign, launched on October 31, 2019 raised over 70 000 $. 
Financial Statements
Image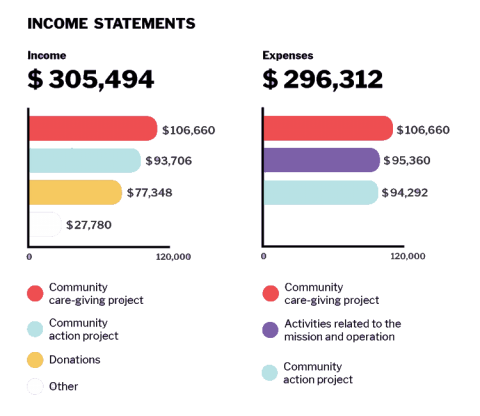 The financial statements have been audited by Louise Belliveau, CPA, and are available through our office upon request.  
THANKS
Thanks to our generous donors.
We're grateful for your support! It's clear that women's economic equality is an important value for New Brunswickers. Together, we are succeeding in advancing pay equity. 
We also wish to thank our 2019-2020 Fundraising Campaign Team: Isabelle McKee-Allain (Campaign Chair),Simone LeBlanc-Rainville, Régina Robichaud, Anne Robichaud, Vallie Stearns-Anderson and Charline Vautour.
VISIONNARY ORGANIZATIONS
TRAILBLAZER ORGANIZATIONS
Canadian Union of Public Employees (CUPE) Local 2745

Unifor


 
VISIONNARY INDIVIDUALS
Sharon A Crabb

Dawn Arnold

Anne Crocker

Jula Hughes

Simone LeBlanc-Rainville et Maurice Rainville

Marie-Linda Lord

Johanne Perron

Noëlla Richard

Odette Snow

Vallie Stearns-Anderson

Robin Tingley


 
TRAILBLAZER INDIVIDUALS
Chantal Abord-Hugon

Geneviève Bouchard et Jean Saint-Aubin

Lise Caissie

France Caissy

Pierre Cormier

Madeleine Delaney-Leblanc

Ghislaine et Fernand Arseneault

Louise Imbeault

Isabelle Jean

Frances LeBlanc

Viola Léger

Lauraine Léger

Isabelle Mckee-Allain

Courtney Pringle

Rachel Richard

Anne Robichaud

Marie-Thérèse Seguin

Jean-François Thibault

Judith Weiss