New Brunswick Public Sector
The Pay Equity Act, 2009 was passed in June 2009 and came into force in April 2010. The Act applies to the New Brunswick civil service, hospitals, school districts, and Crown corporations.
It's a proactive law, which means it is the employer who is responsible for proving their wages are equitable, whether or not they receive a complaint from employees.  They are required to make sure employees have a say when it comes to evaluating and comparing jobs.
Since its implementation, it has led to significant wage adjustments for some female-dominated jobs. The provincial government has completed several pay equity studies in Parts I (civil services), II (school districts),  and III (hospital authorities) of the public service.
"Before receiving pay equity, I lived from paycheck to paycheck even though I had two jobs. Thanks to pay equity, I can now enjoy my holidays and weekends—it's the most wonderful thing that happened to me in my career."

— Sonia Gibbs, student intervention worker (CUPE Local 2745)
 
Image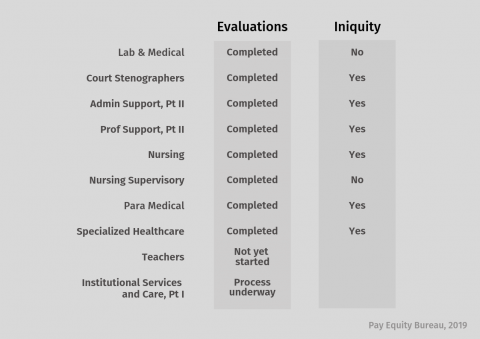 The following Crown corporations have complied with the Act: 
Collège communautaire du Nouveau-Brunswick (CCNB)
New Brunswick Community College (NBCC)
NB Legal Aid
NB Liquor
NB Power
WorkSafeNB and the Financial and Consumer Services Commission are working to achieve compliance. 

But wait! There's still more work to do.
Maintenance regulations are needed. Pay equity is not a one-time exercise. Changes in pay or job descriptions can create new inequities. 
The Act itself needs improvements:
It does not apply to jobs done by less than 10 employees,
It does not apply to municipalities, universities or services mandated and funded by the government but provided by the private sector (parapublic sector) such as nursing homes, home support and child care;
There are no clear and consistent methods regarding the selection of male comparators;
There are few dispute resolution options;
The Pay Equity Bureau has limited powers:

It lacks independence since it reports to a Minister rather than to the whole Legislative Assembly;
It doesn't have the power to receive complaints or make binding rulings.