New Brunswick Community Caregiving Sector
The community caregiving sector refers to the services managed by non-profit organizations or private businesses but mandated by the provincial government. These services complement government services and support New Brunswick families. The jobs in community care services are almost exclusively occupied by women.

Caregiving in numbers
Image


Wages are extremely low considering the required skills and qualifications, responsibilities, effort and working conditions. The government led pilot projects to evaluate pay equity in four of these services in 2008-2014: home care, child care, community residences and transition houses. but the results were disappointingly low. 
"This field will remain a female-dominated field because of the low wages. No man wants to work at these wages." 

— A special care home worker
Through its three-year project Valuing Community Care-Giving, the Coalition conducted pay evaluations with the help of sector employees and employers to determine equitable wages for these six services. 

Results of the pay equity evaluations
The following table shows the results of the pay equity evaluations, indexed based on the CPI of 2022. It also provides the current wages for the year 2023-2024.
Image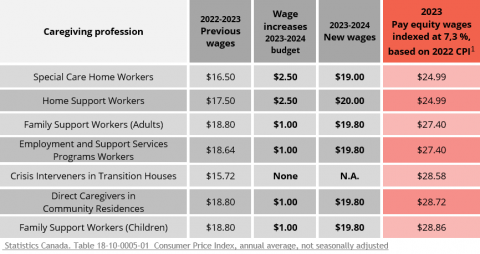 The process was detailed in the following reports:
Things have to change! While governments have invested in wage increases on an annual basis, the government must commit itself to making a long-term plan for long-term care to fix long-term problems.

Our recommendations
Image


Want to help us get there?
Send an open letter to your elected representative 

Join our

Facebook group

for care employees & employers 

Download our info kit to educate yourself, your elected representatives, and the public.
Image